ABOUT DNA...

Currently, Alaska is one of twenty eight states across our nation that requires DNA to be taken on felony arrests. It is critical that DNA is collected on all felony arrests in all 50 states and Canada

Collecting DNA on Arrest will:
Reduce number of repeat offenders being released into our communities
Reduce investigation time
Reduce prosecution time
Reduce court time
Reduce plea bargains
Reduce time victims have to wait for answers
Reduce number of victims and crimes being committed
Reduce the re-victimization of victims
Allow for consolidation of cases for serial criminals
Increase likelihood of Guilty Pleas
Increase successful prosecutions
Increase amount of time sentenced
Exonerate the wrongly accused sooner
Solve more Cold Cases
Act as a deterrent to individuals
Ultimately reduce costs to federal, state and local governments and...
Balance the scales of justice
Failure to pass DNA on arrest because of costs is incredibly shortsighted. The amount of time wasted and the number of crimes committed will cost 10 fold. (See study by Indiana Below).
Alaska is the only state with a law that requires the state to process DNA into the FBI CODIS (Combined DNA Index System) within 90 days. That is GREAT! Currently, all offender DNAs are processed within 30 days! We are the only state that mandates a turn-around time.
That is not enough! We can't stop there. We need to get all 50 states and Canada on board, and, get rid of all backlogs. Federal law requires DNA on all felony arrests and the Supreme Court has ruled that it is constitutional and violates no rights. They ruled it is "No more than a means of identification," calling it the modern day fingerprint. It does not reveal medical history, psychological history, nor race.
At the end of May 2009 a US District Court in California ruled DNA on arrest did not violate any constitutional rights. On June 3rd 2013 the US Supreme Court in a 5-4 decision upheld collection of DNA was not a violation orf the US Constitution! It was a momentous day for victims across the country.
_____________________________________________________________

For more information about DNA, please visit www.dnaresource.com www.dnasaves.org and www.dna.gov.
For studies showing the effectiveness of DNA go to: http://www.denverda.org/DNA/DNA_Arrestee_Database_Cases.htm
For other studies go to:
http://www.denverda.org/DNA/Forensic_DNA_Articles.htm Number 33 is of particular importance.
For more information email me at karen.dynamic@me.com and I will forward them to you.

For studies on why we should collect DNA on felony arrest go to:
The Bonnie Craig case led to Alaska Crime Bill Amendments
Karen Foster has fought tirelessly to secure justice in the murder of her daughter, Bonnie Craig. Karen was sucessful in helping to bring about changes to Alaska's criminal justice system. The three amendments to Alaska State law are:
1) DNA will be collected on anyone arrested for a felony crime or a crime of violence against another person. This DNA will be entered into CODIS, the National DNA database. Previously, DNA was only collected from persons convicted of felony crimes or crimes of violence against another person.
2) A deadline of 90 days is imposed on the State for entering the DNA into CODIS, ensuring timely input of data.
3) The ten-year statute of limitations on kidnapping is removed.
In addition, Karen requested that two additional items be included for legislative consideration:
1) The hiring of three more forensic staff at the existing Alaska State Crime Lab.
2) Conduct a reevaluation of payrates for existing staff at the Crime Lab. After reevaluation the DOA determined the pay scales were adequate. Starting pay is just over $13.00 per hour for a criminalist. The Department of Public Safety received 31 applications for 3 positions. Luckily, three qualified people were hired.

Articles about this can be found at http://www.adn.com/bonnie-craig/story/202947.html and http://www.aksenate.org/ellis/053107_end_of_session_ellis_gara.pdf
Alaska
---
| Statistical Information | Total |
| --- | --- |
| Offender Profiles | 22,060 |
| Forensic Samples | 987 |
| Number of CODIS Labs | 1 |
| NDIS Participating Labs | 1 |
| Investigations Aided | 367 |
Also from dna.saves.org, you can find links to other resources and information on DNA at: http://www.dna/gov/dna_resources/

During the 2007 Legislative Session, the Senate
approved House Bill 90, an omnibus crime bill
that included the first three items above as amend-
ments to State Law, in honor of Bonnie Craig.

On June 25, 2007, then-Governor Sarah Palin made
a public appearance outside of the Alaska Scientific
Crime Detection Lab in Anchorage to sign these
changes into legislation. It took a long time to get the approvals and new analysts hired and trained because of internal strife in the Palin administration. But, everyone is now up to speed.
Here are the statistics for DNA Profiles submitted:
2010
SDIS NDIS
4,732 Arrestees 4,725
4,924 Convicted offenders 4,783
53 from casework with source known 51
84 from casework with unknown source 75
58 Alaska investigations aided
2011
SDIS NDIS
3,239 Arrestees 3,236
413 Convicted offenders 411
57 From casework with source known 53
84 From casework with unknown source 75
47 Alaska investigations aided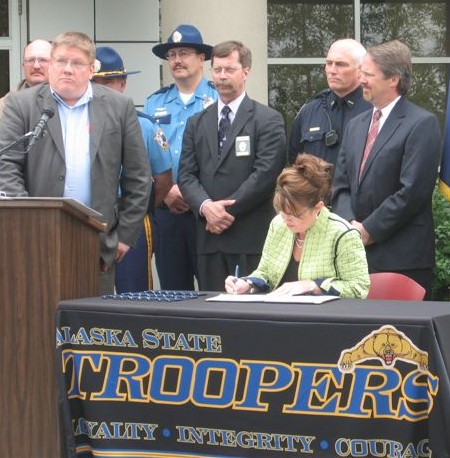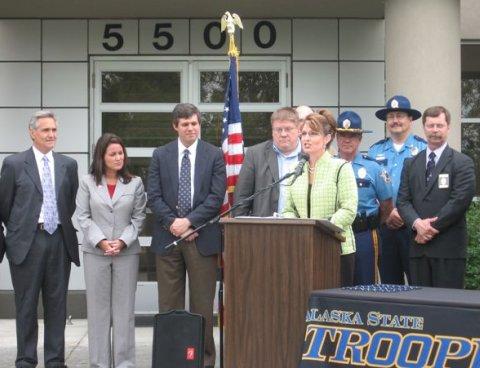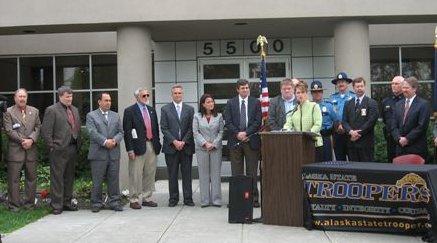 The video below is about SARE, an education program for rape victims and law enforcement personnel regarding the collection and processing of DNA after a rape has been reported. If Alaska public safety staff are unable to store this DNA effectively, the rapist may never be identified. After a victim has been raped and undergone the further humiliating process or the rape exam, they will be further victimized by a system that does not have the capability to analyze and store the evidence that may catch the perpetrator.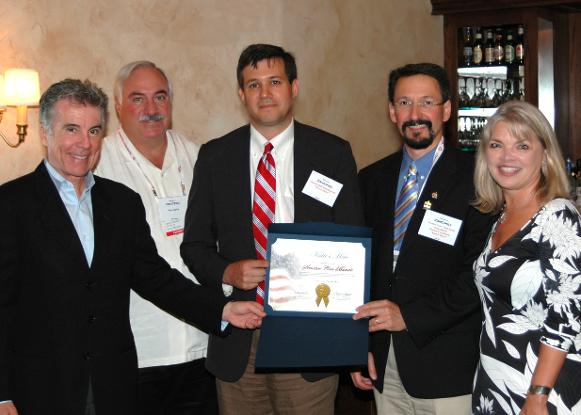 At a DNA Saves luncheon at the National Conference of States Legislatures John Walsh, of America's Most Wanted, presents Alaska 's Senator Bill Wielechowski and Senator Gene Therriault with an award for becoming the 7th state to collect DNA on Felony Arrest. Left to right, John Walsh, Dave Sepich co Founder of DNA Saves, Senator Wielechowski, Senator Therriault, Karen Foster.