BULLETINS AND UPDATES
Senator Hollis French will introduce a bill for "Timely Disposition
Press Conference on September 28th, 2011 at 11:00 AM at Alaska Scientific Crime Detection Laboratory See Blog for Press Release.
DION Found Guilty on ALL 4 Counts in Bonnie Craig Murder
Kenneth Dion was found guilty of 1st degree murder, two counts of 2nd degree murder and one count of 1st degree sexual assault June 15th, 2011. The Anchorage jury didn't buy the defense's argument that Bonnie Craig had consensual sex with Dion prior to going to McHugh Creek and "accidentally" tumbling down a cliff.
State prosecutor, Paul Miovas and Jenna Gruenstein proved, beyond the shadow of doubt, that Dion had abducted Bonnie Craig on September 28,1994 while she was on the way to a 7:00 am class at UAA, He brutally raped her. After Craig went over a cliff at McHugh Creek, Dion scrambled down the slope and "finished the job, making sure that Bonnie would not be a witness against him."
Craig was found dead in the creek at 2:15 pm that day by a hiker. The autopsy report showed she had been brutally raped and beaten. She had more than 11 strikes to her head by numchucks or similar weapon.
In a video taped interview with Alaska State Troopers, Dion had bragged he was a 5th degree black belt and that he often carried martial art weapons, like numchucks, sei and staff in his car. "I grew up my life fighting"
During the interview, while Dion was incarcerated for armed robbery in a New Hampshire prison, he claimed he didn't know Craig and had never seen her before when shown a photograph of Craig. Later, his defense claimed he forgot, but that Dion had a "secret tryst" with Craig. Defense failed to call any witness to testify that they had any knowledge of Dion ever being with or meeting with Craig.
Prosecution told jurors that Craig was in a committed relationship and "hopelessly in love with Cameron", her high school sweetheart. She would never have had a "secret tryst" with a man she didn't know. Craig, also, would have never missed her classes that day. She had written a paper for one class and was prepared for a midterm test in another class that same day.
After almost 17 years, Anchorage residents now know "Who killed Bonnie" thanks to the DNA match in CODIS. Had Alaska collected DNA on arrest back in 1994 this case could have been solved in months. Alaska was the 7th state to pass legislation to collect DNA on Arrest. Currently 26 states have passed DNA on arrest legislation.
Dion was sentenced to 124 years October 31st, 2011.
Governor Signs the Budget, June 3rd, 2010
Governor Sean Parnell signed the budget approving the final $75 million for the new crime lab. Construction is,once again, proceeding. Thank you to all who pushed for the funding. We are saving lives and a lot of heartache by getting this new crime lab. It will be a legacy that will, ultimately, change the crime rate in Alaska. The innocent will be protected and the predators will end up behind bars earlier in their careers. Many crimes will be prevented. It will help balance the scales of justice.
April 19th, 2010
Alaska Lawmakers Approve Crime Lab Funding
It was a knuckle-biter right to the end, but $75 million was approved!
March 8th, 2010
SPC (Surviving Parent Coalition) President pushing for DNA on felony Arrest in Utah!
(http://heraldextra.com/news/local/govt-and-politics/article_42a25887-53a2-57d7-a56a-51c4604324c8.html
February 12th, 2010
Judge Jack Smith granted Defense another extension in Bonnie Craig Murder Trial
Kenneth Dion was identified as the alleged killer by a DNA Hit in CODIS, the national DNA database, November 2006. Original trial date was set for September 2008 so there would be absolutely no reason for extensions. It was then set for January 2009. After 18 months of doing nothing on the case, according to Andrew Lambert, Lee Degrasie was taken off of the case and another public defender was assigned. Within 2 months that public defender told the judge there was a conflict of interest, which she refused to disclose, and that the case would have to go to the Office of Public Advocacy. Andrew Lambert has had the case since March 23, 2009. Trial date had been set for April 19th, 2010. In August 2009, after Lambert missing 3 pre-trail hearings to set a court date, Lambert insisted that he could handle this case even though his wife had been newly diagnosed with cancer. Now, after taking one month off to vacation with his family, to recover from dealing with the cancer issue and, according to Lambert, spending 2 months by her bedside in the hospital Lambert needs more time. He won't be available in August because he has a month vacation planned. So the judge set the date for August 30th. Lambert had requested it be set after the Labor Day Weekend. So we can expect that the trial will be delayed at least until September 2010.
State Prosecutor, Pat Gullafson has been waiting to retire and told the judge he has commitments and planned to retire before August. The Judge did nothing to take the prosecutor's nor the victims' needs and schedules into consideration. The judge, as is always the case, fears an appeal if extensions aren't granted to the defense. Victims have a right to be treated with respect,dignity and fairness and a right to "timely disposition." This has not been fair and certainly no one can argue that it has been timely disposition. Victims constitutional rights are not enforced.
January 26,2010
Georgia introduces a bill to collect DNA on all felony arrests

http://www.myfoxatlanta.com/dpp/news/Victims-Call-for-Better-Ga.-DNA-Laws-012510
Ohio is getting close to passing DNA on Arrest Laws. It may possibly be the 22nd state to pass arrestee laws.
October 13th New York Senator Klein Introduces a new DNA on Felony Arrest Bill
August 21st,2009
The Surviving Parents Coalition kicked off the campaign for The Ride For Their LIves
Rochester, New York Members of the SPC kicked off the Ride for their lives. The ride will take place August 21st, 2010 with cyclists riding fromRochester New York to Los Angeles, California. It will bring awareness to DNA on Arrest Laws, Internet Crimes Against Children,and Safety Programs available. Please go to www.Ridefortheirlives.com
August 5th, 2009
At the 21st pretrial hearing the Judge finally set April 19th, 2010 as the date in the Bonnie Craig Murder Trial. The killer was identified in November 2006. He was arraigned in Anchorage, Alaska April 27th, 2007.
________________________________________________
Sen. Bunde to be Honored for DNA Forensics Legislation;
America's Most Wanted Host Walsh to Present Award
JUNEAU – Sen. Con Bunde, R-Anchorage, will be honored in Philadelphia on July 22 for his contribution toward getting legislation passed to require DNA samples to be taken from suspected criminals when they are arrested for felonies or crimes against other persons.

The award will be presented by John Walsh, host of the television show, America's Most Wanted, at a luncheon hosted by DNASaves.org in Philadelphia, PA. The luncheon is being held while legislators are in town for the annual convention of the National Conference of State Legislatures.

"I appreciate the honor, and am glad I was able to do my part to help modernize Alaska's DNA database to better protect the public," Bunde said. "It seemed to me that upon a felony arrest, a DNA sample should be taken, a modern day fingerprint, if you will. However, I will not be able to attend the luncheon, and have asked my colleague, Sen. Gene Therriault to accept this award on my behalf."

Previous to 2007, the state's DNA database was limited to criminals who had been convicted of a felony. As forensic DNA technology improved over time, states were able to share more DNA data with other jurisdictions, to better track criminals, and states began changing their laws to require taking DNA samples at the time of felony arrest. In 2007, during the time Bunde's legislation to require this was being considered in committee, Kenneth Dion was arrested for the 1994 rape and murder of Bonnie Craig, providing the impetus to incorporate Bunde's bill into an omnibus crime bill, House Bill 90.

Dion's DNA match was made from a New Hampshire DNA database following an arrest for burglary. Karen Foster, Bonnie Craig's mother, and others close to the Bonnie Craig case believe that if Alaska's new DNA swabbing requirement had been in place in 1994, Dion would have been identified as the prime suspect within a year of her murder.

DNASaves.org was begun by the family of Katie Sepich, who was raped and murdered in 2003. It advocates for the adoption of laws requiring the taking of DNA samples upon felony arrest, also known as "Katie's Laws."
July 9th, 2009
The Governor of Missouri, Jay Nixon, is signing their DNA on Felony Arrest Bill today. Hooray! This is the 21st state to require DNA onFelony Arrest. I will be there celebrating!
June 24th, 2009
Ohio Senate passed a DNA on Arrest Bill today 31 to 1. It will now go on to the House.
June 16th, 2009
Florida Governor Charlie Crist signed Florida's DNA on Felony Arrest Bill making Florida Number 20. Missouri's Governor still has to sign their bill.
May 27th, 2009
The US District Court in California upheld the wider use of DNA for those arrested of a crime. In US v Pool the judge ruled that it was constitutional for the federal government to require DNA prior to conviction. The court holds that..."after a determination of probable cause has been made for felony criminal charges against a defendant, no Fourth Amendment or other Constitutional violation is caused by a universal requirement that a charged defendant undergo a "swab test," or blood test when necessary, for the purposes of DNA analysis to be used solely for criminal law enforcement, identification purposes." This decision will increase the confidence in many states where concern for constitutionality still existed. (See links in ABOUT DNA)
May 28th, 2009
Illinois's DNA on Arrest Bill is running into opposition from ACLU and NAACP. Misinformation is the main stumbling block. Also, many fear the additional costs of obtaining DNA during fiscal constraints. Unfortunately that view is incredibly short sighted. It will ultimately save investigation time, prosecution time, court time; not to mention, it will save lives, pain and suffering and it will prevent further crimes.
May 19th, 2009
Operation FairPlay is making a mark around the nation' and in 29 other countries. It is a computer program provided to law enforcement to help apprehend and convict the "worst of the worst" child pornographers. These pedophiles share crime scene videos of infants and young children being sexually assaulted and tortured on peer to peer networks. There have been rescues of children in Rhode Island, Nebraska, Florida and many other states as a direct result of the program. Internet Crimes Against Children (ICAC)Task Forces around the US are starting to make a dent on the number of crimes committed against our children. Less than 2% were being investigated and prosecuted. Those numbers will be changing rapidly now that law enforcement are working with Operation FairPlay.
May 15th, 2009
Alabama DNA on Arrest Law passes! It will be the 21st state once the Governor signs the bill. We still need to work on getting Illinois's Bill passed! It will be one of the strongest laws in the country.
May 12th, 2009
Missouri Senate passed the DNA on Arrest legislation! It will now go to the Governor's office for signature.
May 6th, 2009
Colorado's DNA on Arrest legislation passes and will now go to the Governor's office for signature.
May 1st, 2009
Florida passes their DNA on Arrest legislation. It will go to their Governor to sign.
April 3rd, 2009
I was offered a position with a Florida company that will assist law enforcement in investigation and prosecution of Internet crimes against children and to help promote legislation for DNA on Felony Arrest across the nation.
April 1st, 2009
I testified, along with other Surviving Parents, to the Florida Senate Judiciary Committee to encourage support for the DNA on Felony Arrest. It passed unanomously!
March 11th, 2009
Site-work has started for the new crime lab! This means that THE SITE WORK is on schedule. Thanks to a lot of people pushing to make sure the SITEWORK deadline was met, the dozers moved in and started excavation. However, the remainder of the project remains in jeopardy, as funding for the remainder of the project has still not been approved by the Legislature and the Governor's office. WE STILL NEED YOUR HELP! PLEASE SEE OUR "HOW YOU CAN HELP" PAGE FOR MORE INFO!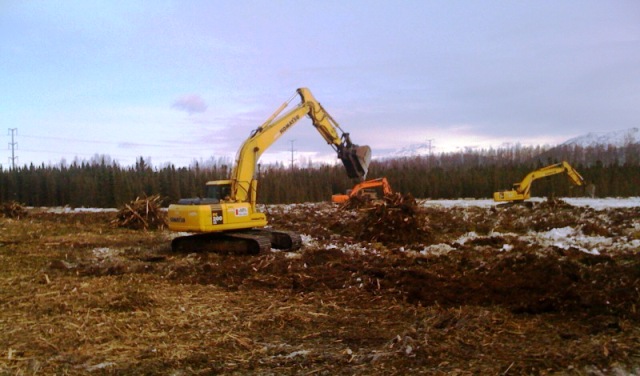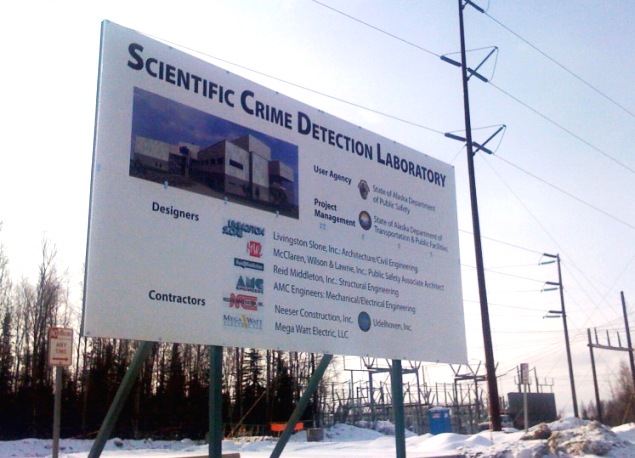 March 10th, 2009
Congress will hear testimony on the Sex Offender Registration National Act (SORNA). Many are attempting to weaken the act and delay compliance by the states. Laura Rogers, former Director of SMART Office, along with Mark Lundsford of the Surviving Parents Coalition will testify to encourage strengthening the act and protecting our children and citizens, not the criminals. (See National Issues tab for more info.)
March 3, 2009
The Anchorage Assembly unanimously passed the land lease between the Municipality of Anchorage (MOA) and the State for the site where the new crime lab is being built. Ground breaking will take place on time! Hooray! Thanks to the hard work of so many people dedicated balancing the scales of justice and making Alaska a safer place to live.
February 26, 2009
Vermont has become the first state in 2009 to pass an "arrestees" DNA law! The bill is now on its way to the Governor, and he is expected to sign it. (The bill is actually an omnibus sex crimes reform package and the DNA provision only one of over 50 sections.) Vermont becomes the 16th state to pass such legislation.

Technically, collection will occur upon "arraignment" for finding of probably cause, rather than at booking (similar to the Virginia law) but it will apply to ALL felony crimes. Another important provision of this bill is that the implementation is delayed until July 2011, at which time Vermont's new crime laboratory should be completed. The delay will give the laboratory an important opportunity to plan for how this law should be rolled out. The new lab space is also important because sample collection sould increase to as much as 4,500 per year; currently, the lab takes in about 1,200 offender samples per year. While there could be some funding in the budget bill later this year, it's more likely that the Legislature will defer funding decisions until 2010 or 2011 when implementation will be closer.

SURVIVING PARENTS COALITION ON THE MOVE IN FEB, 2009
The Surviving Parents Coalition (SPC) met in Washington, DC to help revolutionize the fight against child pornographers and strenghten current laws.

The SPC is a group of 32 parents whose children have been abducted, sexually assaulted, murdered, recovered or are still missing.

This powerful group of parents will be taking Washington by storm, relentlessly fighting to get legislation that will protect our children worldwide. The group, lead by Ed Smart and Erin Runnion, will be focusing on getting DNA laws changed in all 50 states to require DNA on all felony arrests. They will be meeting with senators to ensure that, as a nation, we put our children first.
In February, they met with Department of Justice officials for a roundtable discussion on the Amber Alert Program. A new protocol will be put together on results from the two days of discussion with the group and officials.
The SPC was also introduced to the National Child Identification Program www.childidprogram.com and radKIDS www.radkids.org both of which Karen will help bring to Alaska and involve all communities in our state to help further protect our children.
A presentation on the Sex Offender Notification Act was also presented and Karen will work with the National SMART Office to ensure Alaskans get full benefit of this program.
*******************************************
February 14th, 2009: The ICAC (Internet Crimes Against Children)Task Force received $50 Million in the Economic Stimulus Package.
This will assist law enforcement around the nation to catch the internet predators who are preying upon our children. Currently there are more than 1million internet predators in the US sharing crime scene videos of young children being raped and sodomized. Law enforcement know their locations. This task force is currently only able to investigate less than 2% of these crimes. Department of Justice studies show that in 30% of these locations a child victim could be rescued.
February 10th, 2009: Press Conference in Anchorage!
Karen Foster, along with S.T.A.R and Victims for Justice held a joint press conference regarding the new Crime Lab at the S.T.A.R. Conference Room. Karen Foster urged those present to contact Lawmakers, the Governor and our Congressional Delegation to let them know they are 100% behind the new crime lab. She also encouraged them to share the information with friends, family and co-workers so that there is a unified voice of Alaskans advocating for the new lab.
Anchorage Acting Mayor, Matt Claman, was present and spoke about the land lease and the spirit of cooperation between the MOA and the State. Anchorage has donated the land for the site of the new crime lab. You can see KTUU's news coverage of the press conference and crime lab here.

Important Dates
The New Crime Lab is "Shovel Ready" and is of national importance since criminals often cross state lines. We could be breaking ground on this the middle of March and create jobs for many Alaskans. The Governor's Deputy Chief of Staff has approved the Land lease between the MOA and the State. It will now go the Anchorage Assembly for its approval. It should be the number one project on Alaska's requests for the economic stimulus package. If it doesn't make it on that the State needs to pony up the money and make Public Safety a priority and help balance the scales of justice. The crime lab is the foundation of our justice system.


Personal Appearances
February 10th Karen attended the Anchorage Domestic Violence, Sexual Assault and Child Abuse Caucus at AWAIC where she shared the information on the new crime lab with members of the caucus.

Karen Foster is an advocate of Child Safety and has been working passionately to make changes in Federal laws and obtain funding. As a member of The Surviving Parents Coalition, last year Karen successfully assisted in the passage of PROTECT ACT, protecting children from Internet predators and providing law enforcement with more tools and funding to combat Internet crimes against children. She is working to get laws changed nationwide to require DNA collection on all felony arrests.


SPC Meeting in Florida
In mid-February of 2009, Karen Foster met with Attorney General Bob Butterworth of Florida, Attorney General Michael Moore of Mississippi, and Ken Hunter, Chief Postal Inspector of the U.S., along with other members of the Surviving Parents Coalition (SPC). They met with Flint Waters, Commander of the Internet Crimes Against Children (ICAC) Task Force in the U.S. Flint Waters appeared with Oprah Winfrey on her September 15th, 2008 show, "Fighting Internet Predators." He is currently working with Hank Asher on building one of the world's largest computer data mining companies in the world. Their goal is to protect our children from all the internet predators out there. Asher's new company, TLFO, expects to be up and running in (Countdown)http://www.tlfo.com/. It will absolutely revolutionize the way law enforcement goes after the child pornographer.

The SPC group will fly to Washington, D.C., to meet with Senators to share their findings and educate the Senators on the best way to protect our children and families from Internet predators. Other participants will be Mary Kozakiewicz, Chairman of the Young Adult Safety Initiative; Laura Rogers, Former Chief of SMART OFFICE; Ed Smart, speaking on the "It Takes a Community Safety Initiative"; and Steve Daily and Erin Runnion, speaking about RADKIDS, The Pride Program, and the Netsmartz Internet Safety Program.

The group is also making DNA laws and funding a priority this year. They recently released a public service announcement video currently playing on Youtube entitled "NotOneMoreChild" and viewable at the bottom of this page.

Other Crime Labs in the News
"Michigan Law Enforcement Worries About Crime Labs"
Law enforcement officials used words like "Armageddon" to warn lawmakers of a crisis brewing at state crime labs, where caseloads are up 25 percent since Detroit's police lab was shut down more than four months ago. Detroit's work is being handled by Michigan State Police forensic scientists after an audit found errors in 10 percent of 200 random gun cases at the Detroit lab. Many of the state's 216 forensic employees are working up to 30 hours of overtime each two-week pay period to keep up with added workload, state police Capt. Michael Thomas said Tuesday. (from The Seattle Times, 2/11/09) See full article here.


Bulletin
16 states have passed state legislation that enables law enforcement to collect DNA from felony arrestees at the same time as fingerprints, allowing law enforcement to catch criminals sooner. Alaska joined these states in 2007. Alaska is the only state that mandates inputting of DNA into CODIS within 90 days.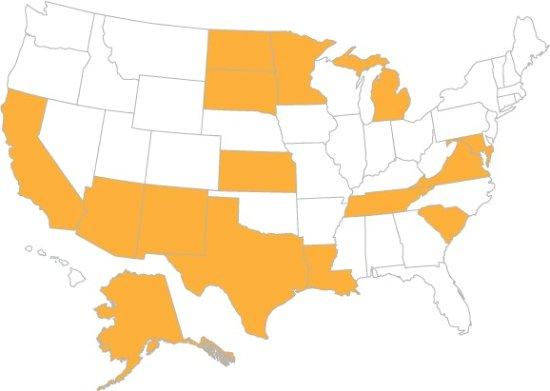 These sixteen states are:
Alaska
Arizona
California
Kansas
Louisiana
Maryland
Michigan
Minnesota
New Mexico
North Dakota
South Carolina
South Dakota
Tennessee
Texas
Vermont *(new addition, not added to above map yet)
Virginia