THE NEW STATE CRIME LAB ~ General Information
The New Lab is up and running. It was completed ahead of schedule and under budget. It is well worth driving by to enjoy the beautiful sculpture. Alaskans can be very proud and feel a sense of security, knowing that the Alaska Department of Public Safety have such an incredible lab with all the best equipment and techniques available to help fight crime and successfully prosecute the criminals.
~~~~~~~~~~~~~~~~~~~~~~~~~~~~~~~~~~
Site-work began on the project in March 2009. Building Construction started June 2009. The Alaska Legislature approved full funding for the project and the Governor signed and approved it.

An informational brochure (2009) about the new crime lab is accessible via the file link at the bottom of this page.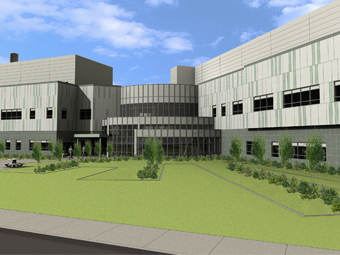 Rendering, New State Crime Lab

Project Site
The new lab is located halfway between the Anchorage Police Department Headquarters and Alaska State Troopers Headquarters on East Tudor Road in Anchorage. The new Martin Luther King Jr Parkway provides convenient access to the new lab from both locations. The site is sized to accomodate future 50-year growth.

In 2009 the State provided funding for design and site work. A value engineering and scope reduction exercise last summer reduced the budget by nearly $20 million. The Governor approved the final $75 million in his budget.

Size & Statistics
The existing Crime Lab was built in the early 1980's and is approximately 19,200 square feet, designed for a maximum of 20 staff; current laboratory staff is 40.



Floor Plan, First Floor, New Crime Lab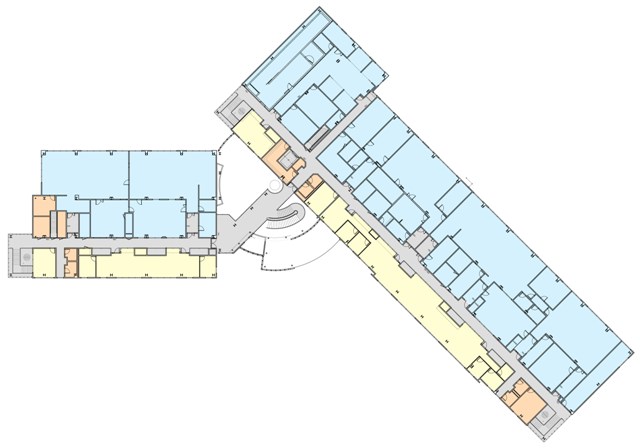 Floor Plan, Second Floor, New Crime Lab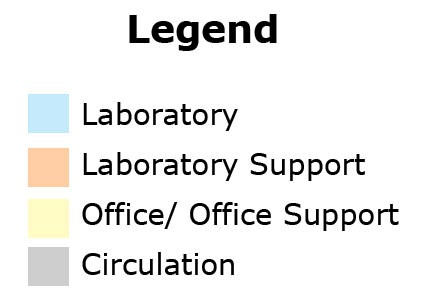 Existing Lab services include:
Latent Prints

Shoe & Tire Impressions

Biological Screening

DNA Analysis including CODIS database entry

Firearms & Toolmarks including NIBIN database entry

Controlled Substances

State Breath Alcohol Program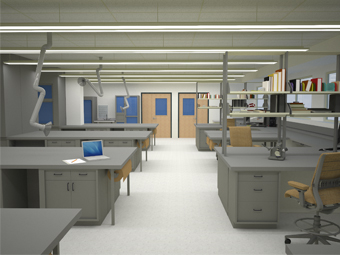 Rendering, lab space in new lab

The new full service lab has a floor area of approximately 74,000 SF (10,000 SF roof top HVAC space) and contains three new forensic sections, including Full service Toxicology (which was formerly outsourced out of state), Dedicated Trace Evidence and Analysis, and Question Documents.

The new lab has significant enhancements and improvements in these areas:

Classroom and Training spaces (for 60 officers)
Dedicated Training Laboratory
Blood Spatter Analysis Training Room
Evidence Receiving, Storage, and Security (including secure, covered evidence receiving area for officer's vehicles).
Flexibility and Adaptability: to accommodate future changes in existing forensic programs, new programs to be brought online, and new technologies to be rapidly implemented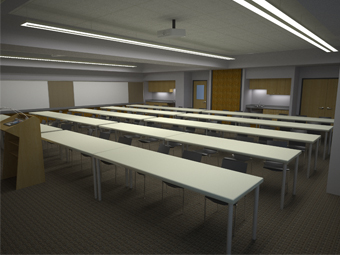 The new lab will have classroom and officer training space

The new lab has improve efficiency and improve turn-around time on submitted cases and allow for sufficient staff and space to process crime scene evidence from all crimes commited in Alaska, including property crimes. The current lab's small size precludes processing all property crime scene evidence.

Planning Horizon: Year 2020
Laboratory staff projection for year 2020 is 67 full-time employees.

Laboratory is sized to accommodate projected staff to 2020 and beyond.

Space is allotted to expand on site, without relocation, after the new lab reaches its capacity.

Early Site work (earth work, excavation, backfill, deep utilities)
Additional funding is needed for building construction, project management, construction administration, furnishing / fixtures / equipment and move-in costs.
"It's expensive to run a lab, but its value can't be understated," says Commander William Peters of the Mesa Police Department (speaking about Mesa's 2007 new crime lab).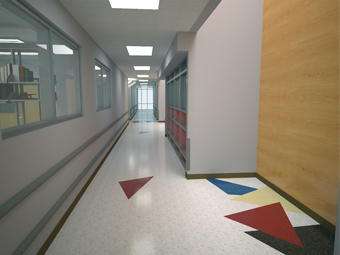 (Rendering of corridor in new lab)

The Alaska Department of Public Safety website contains information about the project at http://www.dps.state.ak.us/CrimeLab/newlab.aspx

Why We Needed a New Crime Lab?
Burglaries are being fully investigated
With an understaffed and undersized lab, local law enforcement agencies were compelled to prioritize crime scene evidence protocol. For example, evidence from burglaries was typically not collected, due to the old lab's inability to process it.

Evidence collected from burglaries may prevent violent crime
The new crime lab has the capacity to perform DNA and other analysis on burglary evidence. This DNA data will be entered into the CODIS database. Should the offender's DNA match DNA already in the CODIS database, a match may enable law enforcement agencies to aprehend perpetrators of other unsolved crimes, link crimes and establish patterns. It will also enable police to aprehend criminals whose escalating criminal behavior, left unchecked, may include bolder and more violent crimes.
To prevent rape and murder
Alaska has the unfortunate distinction of having the highest rape statistic in the country. The new lab has trace DNA analysis capability, which is used to identify a suspect when other DNA techniques cannot. For example, had the Arizona Lab had trace DNA capability, the "Baseline Rapist" (http://www.kpho.com/bestof5i/17956914/detail.html)
could have been taken off the street after his second rape/murder--before he reached victims number three through nine. Seven lives could potentially have been saved. This cutting-edge technology has been proven to save lives in cases such as this, and Alaskans deserve this level of protection.
To make our roads safer
Over 300 toxicology cases per year were not even being submitted to the lab for analysis because law enforcement agencies knew the old lab didn't have the capacity to run the analysis. Furthermore, the cost to send toxicology samples out of state for analysis was expensive, and causes delayed results. The new lab is able to perform toxicology analysis, thus making Alaska's roads safer. Toxicology data analysis also helps in solving rape, murder, and other violent crimes.
To exonerate the innocent
The Innocence Project, established by the Legislature, mandates that evidence be stored indefinitely so it will be available to exonerate innocent detainees in prison. Long term storage of evidence is also mandatory if cold cases are to be worked to successful outcomes long into the future.
To enable crimes to be prosecuted, not dismissed
Everyone has a right to a speedy trial. If the crime lab cannot keep up with the forensic caseload, cases against suspects may be dropped. Victims of crimes also have a right to see closure to cases in a timely manner. The new crime lab can accomodate the anticipated case load for our current and growing population and enable timely prosecution of all types of cases.
Speedier Capture of Criminals (such as the killer of Bonnie Craig)
If our old Alaska Crime Lab had the capabilities in 1994, when Bonnie Craig was murdered in Anchorage, Alaska, to process DNA and enter it into a National DNA database, Bonnie Craig's murderer might have been caught a decade earlier. We may never know what other crimes he was responsible for during the years that he was free to roam the US. Our Alaska law enforcement agencies deserve to be equipped with the best crime-fighting and crime-solving technology available.